Disclaimers and Legal Notices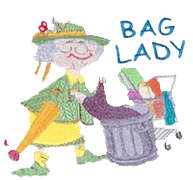 All prices are U.S., call for international pricing and shipping. accepted payment methods include money order, Paypal, Visa, Mastercard, and Discover. call for details. All photos of baglady products are original, copyrighted and all rights reserved. All other photos are either original or listed as public domain when obtained. If you see any images that are not public domain and not owned by baglady please inform us at thebaglady@thebagladyonline.net.
Order times vary dependant on multiple factors including, but not limited to: quantity ordered, variety ordered, shipping method, number of orders in queue prior to your request, availability of materials, health and or other acts of God.
The BagLady is not responsible for damage or losses during shipping. Shipping insurance is required where avaiable and added to the shipping price.
2006. all rights reserved.